Blend-Ed
What is blend-ed?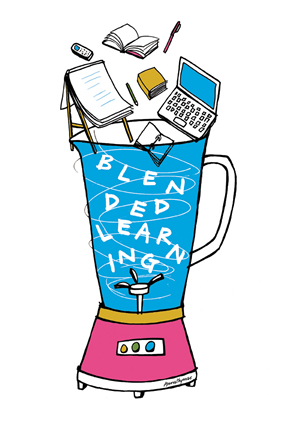 "Blended learning is an educational model that combines traditional face-to-face/distance classroom methods with online delivery and participation; and an element of student control over time, place, path, and pace."

- Nebraska BlendEd Initiative
Blend-ed is a new way of taking on education in the information age. Rather than relying on traditional methods blend-ed acts as a "bridge" in an effort to combine the old and the new into an integral approach. This approach strives to meet technological changes head on in order to improve the quality of our education, as well as helping our school to adapt in the ever-changing world of technology.
What is Blended Learning? (short) from The Learning Accelerator on Vimeo.
---
How can blend-ed help me?
Blending traditional educational methods with technological methods brings new exciting and engaging ways to involve students in the learning process. Think of blend-ed as a technological tool kit. Tools make your job easier, and get the job done faster.
"Teachers will not be replaced by technology, but teachers who do not use technology will be replaced by those who do."

– Hari Krishna Arya, India